It is Almost Fall, which Means...Time for Our Fall Paddling Series
We will touch all rivers in Winnebago County, plus two different sections on the Fox. Our Fall paddling group outings include all the outdoor equipment you need (or you can bring your own) as well as a refresher on paddling strokes and safety, experienced guides, a relaxed social setting for you to meet like-minded people, and the opportunity to take on new challenges and outdoor adventures.
We Revisit this Topic Each Fall...Paddling in Colder Weather
When paddling later in the year, it is important to pay attention to the combined air and water temperature. The baseline is 120 degrees combined. Anything below that, and various levels of protective clothing are required. The good news is we're paddling in smaller rivers, so we are never far from shore which means on dry land quick. It is rare that a "swim" occurs, but we need to be prepared just in case. If protective clothing is required due to temps on any of these adventures, we will be sure to reach out to all participants.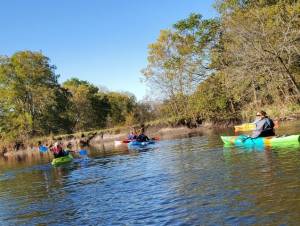 There's still two months left in paddle season and plenty of time to experience the outdoors on the water. We hope to see you on an adventure this Fall!